« Petite dedicace à Nico | Page d'accueil | Stage à Ottobiano (italie) »
18/04/2006
Nouveau jersey suzuki "vintage"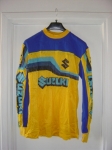 un de plus dans ma petite collection de maillots de cross vintage exclusivement SUZUKI of course!! : )
12:25 | Lien permanent | Commentaires (1)
Commentaires
hi

how are you?

I finished race in INA.
This time race was difficult.
I was 14th.

I will go to LOHEAC in june.
Écrit par : shinyo | 26/04/2006