« Reservoir alu... | Page d'accueil | En galere... »
12/05/2007
DRZ #325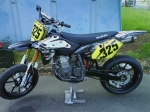 Une petite photo de ma prépa' ça avance... Il me manque encore des pieces: Le freinage complet, les protections cadres et le cache PSB en carbone, les protege-mains et la ligne complete....
19:10 Publié dans DRZ400 R 2001 | Lien permanent | Commentaires (6)
Commentaires
de beau boulot !!!!
Écrit par : cOuA | 12/05/2007
Que dire.... MAGNIFIQUE !!!
Quelle couleur le freinage ? Bleu ?
Écrit par : 21Shots | 12/05/2007
merci : )
non le kit frein sera noir, + simple en cas de changement de look! ; )
Écrit par : kpm | 12/05/2007
Hello.
It is very cool.

There is one question.
Can this aluminum tank be installed also in DRZ400S?
If it is possible to install it, I want to do the purchase examination.
Écrit par : mapa | 13/05/2007
hi Mapa,
Thanks
Of course, you can to install it on your DRZ!
Écrit par : kpm | 13/05/2007
MAGNIFIQUE ....encore une fois du bon et beau boulot ;-)
Écrit par : david_f | 16/05/2007