« y a du progres... | Page d'accueil | c'est long.... »
17/11/2006
Fake ou pas fake.... ъ( ゚ー^)
Un delire d'une chaine de bricolage "HORNBACH" qui fait un spot de pub avec un cascadeur completement deluré du nom de "Ron Hammer" sur une Husaberg 650 supermoto!

Allez voir aussi le site du cascadeur, c'est le delire!! v(=∩_∩=)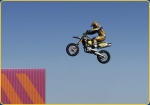 00:25 | Lien permanent | Commentaires (1)
Commentaires
KP !!!!!

C'est pas un fake ! Mattes ça sur le site du mec :
After the dramatic crash happened at the "RON versus HORNBACH" show in Berlin, Germany, RON is recovering fast but still needs medical attention. He's already using swear words again, which shows that he is almost back to normal: "That thing was not big, it was f***ing huge." In jumping over HORNBACH, the biggest DIY superstore, he tried to set a new record.

C'est tellement pas un fake qu'il s'est detruit !
Écrit par : THC (le narvalo bien sur...) | 23/11/2006